CEDAR Adaptive Limiter Software Module for Cambridge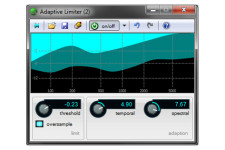 Unlike a traditional limiter or a multi-band device, CEDAR's adaptive limiter employs a unique new algorithm developed by CEDAR. With peak and oversampling modes, it calculates a continuingly varying EQ profile that constrains the amplitude of the output while retaining the integrity of the input. The result is a signal that sounds louder while remaining much more natural than audio processed using conventional limiters and maximisers. The attenuation profile is constrained in two ways: the rate at which it is permitted to vary in time, and the amount by which it is permitted to vary from frequency to frequency across the spectrum. This makes it possible to craft a wide range of responses with just two parameters. Of course, you don't have to use it to make things sound loud. It's just a great limiter!
For more information, please visit this product's webpage.