CEDAR Declick Software Plug-in for Pyramix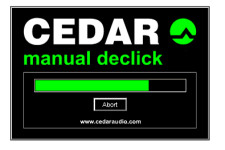 With both manual- and auto- declick capabilities, CEDAR declick for Pyramix performs at high speed without sacrificing CEDAR quality, and addresses the widest possible range of scratch and click removal problems. auto declick allows the user to process part or all of an entire playlist as an off-line process. Remarkably, there is no need for user-controls, and the automatic process will cope with even the most severely damaged audio. manual declick incorporates a new algorithm capable of restoring clicks and other problems – such as drop-outs and digital errors – of up to 2,000 samples duration. It is particularly suitable for repairing optical soundtracks, and ideal for restoring audio that suffers from problems for which standard declick algorithms are not optimised. CEDAR declick for Pyramix is an ideal complement to CEDAR's range of real-time click- and crackle- removal processes.
For more information, please visit this product's webpage.