CEDAR Decrackle Software Plug-in for Pyramix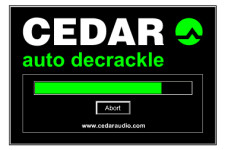 CEDAR decrackle for Pyramix doesn't only remove the tiny clicks, crackles and "grunge" from vintage discs and vinyl LPs… it removes many types of buzz, and can be extremely effective at reducing amplitude distortions. With no parameters for you to worry about, CEDAR's adaptive algorithms will identify and remove all of these noises automatically, making it as applicable to film soundtrack restoration, audio forensics and broadcast as it is to traditional audio restoration jobs such as CD remastering.
For more information, please visit this product's webpage.