CEDAR Dehiss Software Plug-in for Pyramix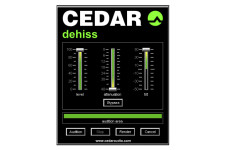 CEDAR dehiss is a fully-featured package for cleaning up audio for post, CD and DVD mastering, soundtrack restoration, broadcast, and sound archives. It is remarkably simple to use, but is nonetheless a powerful and effective package that allows you to:
1) audition cleaned audio and adjust parameters in real-time
2) render back to disk in a fraction of real-time
3) clean multiple channels simultaneously
With just three parameters to adjust, anyone can master dehiss in minutes. However, this is no cheap plug-in. Dehiss for Pyramix was created by the same team that developed the superior algorithms for CEDAR Cambridge™ and the CEDAR Duo™ dehisser. Their expertise ensures that users can obtain top-quality results with minimum fuss and maximum productivity.
For more information, please visit this product's webpage.