!CEDAR DNS 1500 Hardware Dialogue Noise Suppressor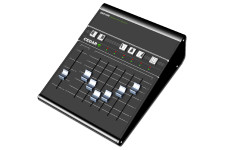 The CEDAR DNS 1500 Hardware Dialogue Noise Suppressor updates the style, design and performance of its predecessor, the DNS 1000. With an improved chassis and updated processors, it couples the perfect ergonomics of the DNS 1000 with improved 2-channel performance and up to 96kHz capabilities for increased compatibility in today's audio environments.
If you work with dialogue, the speed, flexibility, and ease of use of the DNS1500 provides solutions to audio problems that you could not previously solve. Furthermore, the DNS1500's near-zero latency means that you do not need to slip the audio against time-code, making it possible to use the DNS1500 in real-time on the dubbing stage. For location sound engineers (who do not have the luxury of random access to the material) the near-zero latency means that the DNS1500 is simple to use with video, and removes the need for a video frame store. Furthermore, the combination of low latency and 24-bit fidelity means that you can leave the DNS1500 permanently in the signal chain without fear of signal degradation.
The DNS1500 is also a valuable tool in audio forensic investigation, used for cleaning tapes and for live surveillance. And in the audio forensic laboratory, the DNS1500 can remove motor noise from small covert recorders, eliminate electrical interference, and help to clean up recordings suffering from unfavourable acoustics and poor microphone locations.
For more information, please visit this product's webpage.