CEDAR Dynamic Noise Suppressor Software Module for Cambridge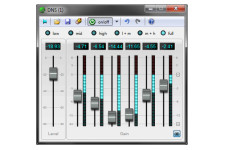 CEDAR Cambridge's DNS module helps remove the rumble, the hiss, the whistles, the broadband noise and the "shot" noise from contaminated sounds. DNS splits the signal into a large number of well-defined bands, and sophisticated digital filters then analyse each of these bands, suppressing the noise independently in each. The innovative design of this filter bank allows you to control the DNS process using relatively few controls, making it simple and quick to use in all situations. If you work with film dialogue, the speed, flexibility, and ease of use of DNS provides solutions to audio problems that you could not previously solve. And, with eight, 96kHz channels of the DNS algorithm in a convenient, automated format, it cannot be bettered for multi-channel post-production in the film, video, and TV industries. In the audio forensic laboratory, DNS is ideal for removing motor noise from small covert recorders, for eliminating electrical interference, and for helping to clean up recordings suffering from unfavourable acoustics and poor microphone locations.
For more information, please visit this product's webpage.