CEDAR Studio 7 Adaptive Limiter 2 Software Plug-in for Pro Tools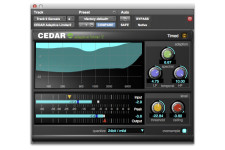 Adaptive Limiter 2 employs a unique algorithm that calculates a continuously varying EQ profile that constrains the output while retaining the integrity of the input. The result is a perfectly controlled signal that remains much more natural than audio processed using conventional limiters. It's also an unsurpassed maximiser and, with advanced resampling and noise shaping capabilities, it's ideal for mixing, final mastering and other creative duties.
For more information, please visit this product's webpage.