CEDAR Studio 7 Debuzz Software Plug-in for Pro Tools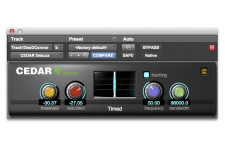 This powerful but simple process removes unwanted signal components across the entire audio spectrum, and is capable of removing all manner of buzzes and hums with fundamentals as high as 500Hz. Debuzz will also track wandering tones and, unlike traditional filters, can successfully restore your audio without unwanted side-effects such as limited bandwidth or the hollow sound introduced by comb filters.
For more information, please visit this product's webpage.