Sonifex RB-AES4B3 Audio Distribution Amplifier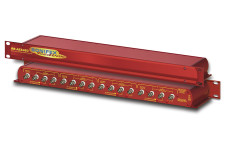 The RB-AES4B3 is a passive, quad "one-to-three" splitter housed in a 19″ rack. Each bank is designed to split a single AES3ID digital audio source to up to three destinations, using female BNC connectors.
Particularly useful in a video production and broadcast environment, the RB-AES4B3 splits the input signal through high quality transformers. 75Ω termination can be applied, if desired, to unconnected outputs to maintain optimum carrier parameters.
The RB-AES4B3 requires no power to operate, ensuring your audio remains connected from source to destination(s) without interruption from power failures.
For more information, please visit this product's webpage.