Sonifex PS-AMP IP to Speakers Streaming Decoder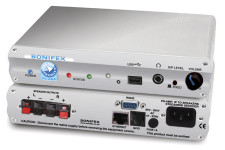 The PS-AMP is a freestanding unit which converts an IP audio stream directly to speaker outputs. It is also available in a 1U rack-mount as the PS-AMPS. The PS-AMP has the same feature-set as the PS-PLAY except that there are no individual audio outputs other than the speaker terminals. The PS-AMP uses an integrated 2 x 15W D-class amplifier to deliver audio directly to a pair of connected speakers.
For more information, please visit this product's webpage.