Sonifex RB-SD1 Silence Detector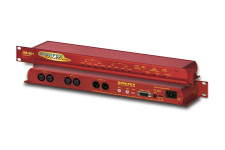 The RB-SD1 silence detection unit is a 1U rack-mount device used to monitor an unattended stereo studio feed and in the event of the signal going "quiet" after a given period the unit will switch through an alternative stereo audio signal. This signal could be a recorded message (e.g. "normal service will be resumed", etc), a feed from a CD player or minidisc machine, or an alternative recorded programme. Controls are provided to start external equipment and to provide remote status indication.whole stereo signal fails. There are also options to set the remote start output as momentary or latched, to disable switching to the auxiliary input on alarming and to increase the gain on the auxiliary input so that an unbalanced input can be used, for example, from a domestic minidisc player.
For more information, please visit this product's webpage.