Audessence AM PRO-1 AM Broadcast Audio Processor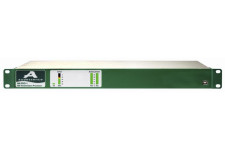 The Audessence AM PRO-1 is a complete air-chain audio processing system for AM radio stations. Adjustable input pre-filtering (lowpass and high-pass) pre-conditions audio to prepare for aggressive 'brick-wall' low-pass filtering later and avoids wasting modulation percentage on inaudible sub-bass components Unsurpassed Audessence AGC developed for the professional Audessence levellers keeps programme level as consistent as desired Programme compression, limiting, pre-emphasis and clipping for optimum loudness and coverage increase All this plus enhancement features for brightening and clarifying your programme. Adjustable Low-Pass filtering meets all international and national broadcasting specifications including ITU and NRSC (4kHz to 15kHz nominal).
For more information, please visit this product's webpage.