Merging Technologies Hapi Small Format Network Audio Interface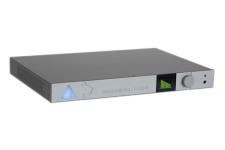 Horus might be one of the worlds most sonically transparent Mic Pre's. Horus might also be one of the most phenomenal AD/DA boxes on the market. Horus could very well be the ultimate answer to anyone wanting Analogue/AES/MADI interconnectivity in the room they work in. It is a revolution in "bang for buck" technology and is set to become the defacto audio I/O device for the media industries…
But in reality Horus is much, much more:
Using Ravenna technology, Horus brings to the table the possibility to interconnect your entire facility using nothing more than a standard RJ45 connector. Once in Ravenna mode, the Horus box simply becomes a node on a network, one that can be instantly called to be an input, an output, or a combination of both. Whether you are in broadcast, TV and film, CD/SACD mastering, studio or live music recording, live events, theatres, museums, cruise ships, or any industry where you need audio to get from A to B (or A to B and C, or C to A and part of D, E, and F!).
Using standard network connections, switches and connectors, Horus and other Ravenna-enabled devices can be placed on a network and interconnected IN ANY WAY YOU CAN IMAGINE.
Standard Connections (Base Unit)
– 64 MADI I/O (Optical or Coaxial)
– 24 AES/EBU I/O (on DSub 25)
– RAVENNA I/O (on RJ45)
– SYNC – LTC/MTC/VideoRef/Wck (requires CON-D15-VTC cable)
– 6 option slots for AD8D/AD8DP and DA8/DA8P cards
– 1 option slot for MADI expansion option
Optional Additions
– AD8D and AD8DP standard and premium Mic/Line Input cards
– DA8 and DA8P standard and premium Line Output cards
– MADI expansion card delivering 64 additional MADI channels
– Redundant power supply option
– RS-422 and GPIO option card (In Development)
Note: Premium and Standard option cards can be mixed in a Horus unit.
For more information, please visit this product's webpage.