Merging Technologies Pyramix Digital Audio Workstation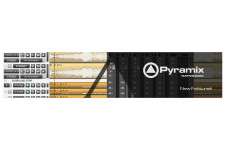 A new era now begins for PyramixTM with our latest technological breakthrough called MassCoreTM. MassCoreTM is a new and incredibly powerful real-time engine for Pyramix and offers an increased level of processing and channel count so great that Pyramix now becomes, quite simply, the most powerful digital audio workstation in the world today.
Pyramix MassCoreTM can be configured from just 16 to an astonishing 384 simultaneous live input and output channels (768 I/O) at 48kHz, or at 256 channels through the mix bus into a massive 256 channel mix-buss structure. Retaining an almost infinite number of real-time editing (virtual) tracks and with latencies far lower than any other Windows or Mac based system, Pyramix MassCoreTM offers a level of power, sonic quality and flexibility that outperforms every other DAW on the market.
So many tracks and so many channels at 48kHz may not be required by everybody but it is worth noting this also allows for 192 simultaneous I/O channels at 96kHz, 96 I/O channels at 192kHz and we don't stop there. Pyramix is the only system in the world capable of 48 I/O channels in DXD (352.8 kHz) and DSD256 (1-bit 11.2MHz sample rate) for SACD production.
The MassCoreTM engine is as powerful and as capable as a large format standalone digital console. Fully automated with freely configurable mix, buss and monitoring structures.
For more information, please visit this product's webpage.