Sonifex RB-LU4 Matching Converter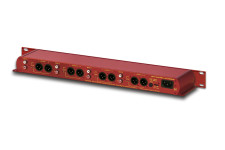 The RB-LU4 is a 1U rack-mount quad stereo unit for interfacing professional balanced line levels to domestic or semi-pro unbalanced equipment, e.g. for connecting a pro satellite receiver to a consumer 
hi-fi system. All connections are on the rear panel. The eight balanced XLR-3 inputs have an impedance of 20kΩ and are routed to eight unbalanced RCA outputs with an output impedance of <50Ω.
For more information, please visit this product's webpage.