Sonifex RB-SP1 Sample Rate Converter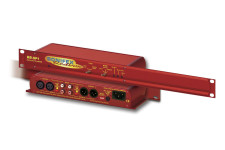 The RB-SP1 digital splitter & combiner is used to interface various double sampling pieces of equipment. Some older equipment uses 2 AES/EBU connectors for double sampling with each connector carrying an audio signal at a normal frame rate, whilst other equipment has a single connector using twice the frame rate.
For more information, please visit this product's webpage.