Sonifex RB-UL2 Matching Converter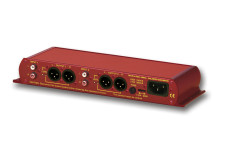 The RB-UL2 is a dual stereo unit for interfacing domestic or semi-professional unbalanced equipment to professional balanced line levels. All connections are on the rear panel. Four RCA unbalanced inputs have an impedance of 10kΩ and are routed to four balanced XLR-3 outputs with an output impedance
of <50Ω.
For more information, please visit this product's webpage.