Sonifex RB-VHEDD8 Dolby Encoder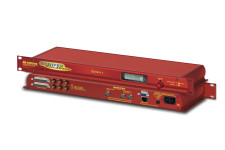 The RB-VHEDD8 is an SDI audio de-embedder and re-embedder with Dolby® E Encoding capabilities. Dolby E encodes up to 8 channels of audio into two channels of an AES digital audio stream which is then embedded onto any of the available groups within each of the two video output paths. The encoded Dolby E bitstream is also available via a dedicated output on the rear panel.
For more information, please visit this product's webpage.