Coles 4104b Ribbon Microphone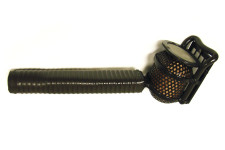 Coles 4104b XLR Noise Canceling Commentator's Ribbon Mic was also designed by the BBC for use in reproducing high quality commentary speech from noisy surroundings by canceling out a considerable degree of background noise. It is being used by all major U.S. networks and their affiliates in broadcasting important sports events, political conventions, on-site news reporting, and many other noisy environments. The Coles 4104b has emerged as an indispensable tool in mobile news satellite units because of its unique noise canceling characteristics which have made it the only real choice in these excessively noisy environments.
For more information, please visit this product's webpage.