Pearl Clarity Condenser Microphone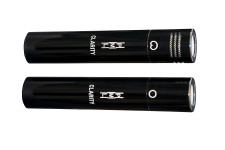 The Pearl Clarity condenser microphone is well adapted to every kind of application, recording inthe studio or live.
This microphone offers two different capsule heads, cardioid and omni. The Clarity can be purchased with either capsule head or both. It has a low noise transformerless pre-amplifier.
The PMLClarity will perform well in capturing orchestras, choirs, all kinds of instruments and as overheads for drum kits.
Alternatively, the PML Clarity will perform well on a lectern or in a Radio/TV studio, where its small size and discreet appearance is an advantage.
The PML Clarity has a durable black Chrome surface finish. It is delivered in a shock-proof carton tube. The tube has room for both capsule heads.
More than just a microphone, it is a statement!
For more information, please visit this product's webpage.