Pearl DS70 Stereo Condenser Microphone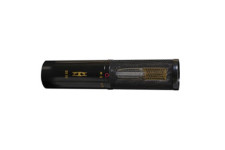 The DS 60 has been Pearl's flagship microphone for many years. It's unique four-channel capabilities paired with the unbeatable transparency of the legendary Pearl rectangular capsules has made it not only cherished by our customer but also by the international audio press. DS 60 was awarded Editor's Choice in the German "Professional Audio Magazine" in 2012.
Despite all this, we felt it was time to send the DS 60 off to retirement and instead we are happy and proud to present to you the PML DS 70.
How does the DS 70 compare to the DS 60? The basic concept is the same, a dual capsule, quad channel microphone, enabling a multitude of patterns: Cardioid, MS Stereo, X/Y Stereo, Blumlein, Surround, Figure 8, Omni, 180 degrees back-to-back Stereo. At the same time, we have changed and improved a number of things, some visible, some not. The most important ones are:
– A new body which visually ties in with Pearl's existing range (22 series, ELM).
– The DS 70 comes with a premium elastic suspension, Rycote USM-L.
– The coding of the splitter box has been redesigned, facilitating the use of the DS 70. The new coding has four different color markings identifying the individual membranes/channels on the microphone itself and on the splitter box.
– Internal capsule to PCB wiring has been upgraded to a Vovox product. Vovox is a Swiss manufacturer of specialized cables and wires.
– The two capsules in the DS 70 are now mounted on top of each other tightly which puts them closer to each other and obviates the need for the more complicated housing previously used in the DS 60.
We expect that these changes will not only make the DS 70 more attractive and easy to use, but it will also sound even better than its predecessor.
With this upgrade, Pearl has a world class multi-channel microphone for many years to come.

For more information, please visit this product's webpage.