Pearl MS8 Stereo Condenser Microphone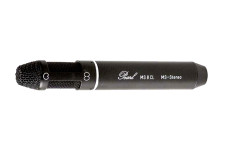 The Pearl MS2/MS 8 are stereo condenser microphones specifically made for MS recording of TV, Video and Film production. They are very light – an advantage for using on a pole, and are available in many versions such as different sensitivity. The MS 8 "M" and "S" channels are output independently for external processing. The MS 2 has an internal matrix to produce a L and R output.
For more information, please visit this product's webpage.