Pearl Priority Condenser Microphone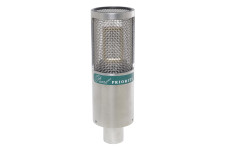 Pearl PRIORITY is a large diaphragm condenser microphone with a fixed cardioid pick-up pattern. This all-new design has got a completely new diaphragm, designed to facilitate production and thereby enabling a lower price. And of course, it is a rectangular diaphragm! 
The Pearl PRIORITY is equipped with the brand new 2900 single diaphragm rectangular capsule. The capsule has an unusually large diaphragm for a single diaphragm capsule which contributes to the astonishing sonic capabilities of the Pearl PRIORITY.
The frequency response curve of the Pearl PRIORITY is just as flat as all other Pearl microphone products. Pearl PRIORITY is an all-round microphone and can be used for any acoustic instrument or for vocals. However, Pearl PRIORITY's capsule has been deliberately tuned and the frequency curve shows a slight increase (2-3 dB) around 5kHz which corresponds to the "presence increase" often sought after, in particular for vocals.
The appearance of the Pearl PRIORITY is different from the CC22/ELM range of microphones. The Pearl PRIORITY will have a somewhat larger stainless steel housing and features a green LED on the front side of the microphone, which should be appealing to home studio owners and vocalists who can actually see their microphone being powered up. Pearl PRIORITY will be delivered in a smart, whisky-bottle style carton with an additional storage pouch. A simple clip will be included in the delivery, and more elaborate shock-mounts will be available separately.
We feel confident that this microphone will win the hearts not only of Pearl's traditional customer base of demanding professionals, but also of home studio users all around the world. It is an affordable, hand-made, premium product which is second to none in its segment. Easy to use and with the vibrant, transparent sound characteristics of all Pearl microphones, The Pearl PRIORITY will allow a wider audience to get access to the superior sound of Pearl! The rugged stainless steel housing will also make it a reliable and trusted companion for many years of usage.

For more information, please visit this product's webpage.