Pearl TL44 Stereo Condenser Microphone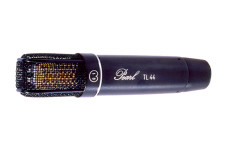 The Pearl TL4 and TL44 are mono-stereo, condenser studio microphones with unique qualities and use the classic Pearl capsule with rectangular dual membranes mounted back-to-back in compact black chrome bodies. The versatility of these mics allow them to be used as single stereo microphones for direct to tape live recording, cardioid mics for acoustic guitar at a multi-track studio session, and figure-of-eight disc to record background/vocal duet all within one session. The TL4 is a high impedance model.
For more information, please visit this product's webpage.