Pearl TL6C Condenser Microphone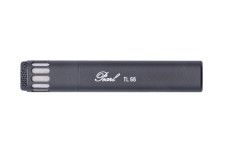 The Pearl TL6 and TL66 are cardiod condenser microphones useful in many sound environments These models are suitable for working at long distances from the sound source, such as ambiance and audience reaction. A major feature of the TL6 and TL66 is the very accurate reproduction of percussion instruments. This mic is designed for musicians as well as studio recording. The TL6 is a high impedance model.
For more information, please visit this product's webpage.