Audio Developments AD147 Studio / Remote Mixer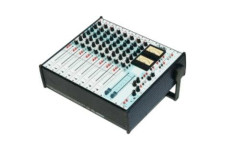 AD147 has electronically balanced mic/line inputs and electronically balanced outputs. Transformer balance is available as an option. There are two independent Aux. outputs with pre or post fader switch able M.S. decoding on the inputs and outputs. A separate row of input connectors which permit mic and line input to be plugged into the same channel with switchover facilities.
For more information, please visit this product's webpage.