Audio Developments AD245 Drama & Location Film Mixer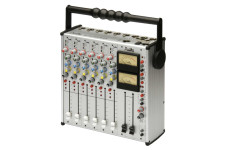 AD245, the smallest of the EFP style mixers, is available in six and eight input. This mixer has transformer balanced inputs, high pass filter, equalizer, pan pot pre-fade listen, and long stroke linear faders. The stereo output is transformer balanced, and can be monitored on meters and headphones. There is a limiter with link facility and tone generator for line-up purposes.
For more information, please visit this product's webpage.