Audio Developments AD261 ENG Mixer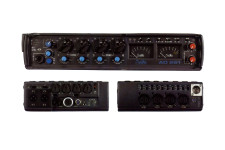 AD261 stereo ENG mixer has four mic/line inputs, pan pot routing, and two transformer balanced outputs. Additionally, it has a multi-point connector for send and return to a camera plus an unbalanced output to back-up your recording on a portable DAT machine. The AD261 has line-up tone, talk-back facilities, M.S. decoding and monitoring, pre-fade listen on the four outputs as well as comprehensive monitoring on the outputs and the stereo return.
For more information, please visit this product's webpage.