Sonifex RB-DMX4 Broadcast Mixers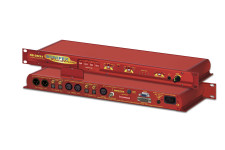 The RB-DMX4 is a digital mixer capable of mixing or routing 4 mono input channels into 4 mono outputs, or 2 stereo inputs into 2 stereo outputs. The inputs are sample rate converted to allow sources of different sample rates to be mixed. The flexible Mix Matrix allows for a wide variety of mixing options and creativity, using 4 blocks of 4 way DIPswitches to select which inputs are mixed or routed to which outputs.
For more information, please visit this product's webpage.