Sonifex S0 Broadcast Mixer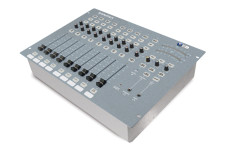 The S0 is a high quality yet simple to operate radio broadcast mixer ideally suited to community radio stations for educational purposes and for internet radio. Easy to understand, the S0 includes a telephone hybrid for making and recording telephone calls and a 3.5mm stereo jack for plugging in an mp3 player. The addition of a USB port allows for recording to a PC, and for playing a PC automation system directly through the mixer. The headphone outputs have a built in limiter offering hearing protection, and the studio speakers mute when a microphone fader is open with automatic mic live sign switching. The S0 allows broadcasters and DJs to be up and running quickly with a fully featured radio studio mixer.
– User friendly broadcast mixer.
– Clear, simple layout with no jargon.
– Designed for school & community radio.
– Nine multi-function channel mixer.
– Built in telephone interface.
– Built in headphone volume limiter.
– Large, simple LED volume display.
– Remote output for fader starts.
– Speaker muting when 'Mics' are on.
– External mic-light switching output.
– 'Program' and 'record' outputs.
– 'Aux' input for iPod or MP3 players.
– Four microphone/line channels.
– Four stereo line channels.
– Switchable telephone/AUX channel.
– Stereo USB audio to and from a PC.
– Guest headphone 'talkback'.
– Reliable, low cost mixing solution.
– Rack or flush mountable.
– Integrated AC power supply.
The Sonifex S0 mixer is a compact, low cost, fixed format broadcast mixing console designed for on-air radio use. It uses the same high quality circuitry and components as the Sonifex S2 and S1 mixers to provide an audio experience second to none. The S0 can be fitted flush into a desk-top, or can be rack mounted directly using the front panel mounting holes.

For more information, please visit this product's webpage.