Sonifex RM-2S4 Reference Monitor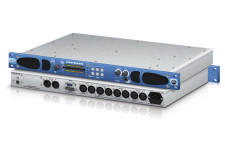 The RM-2S4 is a1U rack-mount unit offering quality loudspeaker monitoring and accurate, high-resolution metering of up to four stereo audio sources and more with the addition of optional expansion cards. Sources may be in any mixture of analogue and AES/EBU digital formats, with sample rates up to 192kHz accepted. Audio inputs can be analogue or digital because they are autoswitching using the left Neutrikâ"¢ XLR for AES/EBU, or both Neutrikâ"¢ XLRs for analogue inputs and they can be used in any combination.
For more information, please visit this product's webpage.