Merging Announces New Consumer Audio Products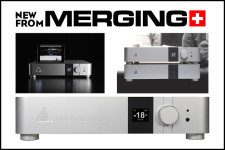 Merging Announces New Consumer Audio Products: MERGING PLAYER, MERGING NADAC and MERGING POWER bring the high end audio experience of the recording studio to your home listening system and environment.
MERGING NADAC Digital Audio Converter was born out of the repeated request from Merging's mastering and recording engineer customers to provide a DAC for the audiophile market. This would be for their own customers, the music lovers, the high-resolution lovers, the purity lovers, a DAC able to reproduce the same experience, the same transparency they, as engineers, enjoyed in their studio when working on their Masters.
MERGING PLAYER Digital Audio Server restores the concept of the audiophile music server and makes your life simple again. The combination of the best music player available and the best sounding DAC allows you to access your music library from a tablet and connect directly to your amplifier or listen on headphones with the purest sound ever. It doesn't get any simpler!
Reviewers have been unanimous in praising the excellent audio quality of the MERGING+ PLAYER and MERGING NADAC, so that would indicate that the designers did a fine job with the power supply. There is a body of opinion that maintains that removing all AC components from the chassis should improve the performance even more. MERGING POWER Digital Audio Power Supply is the answer. The unique hybrid design mixes switch mode and analog toroidal transformer technology to separate the different requirements of the key internal components. All major parts of the power plant meet aerospace or military specifications and have been selected to offer the ultimate in sonic integrity. MERGING POWER is a product designed to add magic to excellence for the most discerning users.