Video: Sonifex RB ADDA2 Available From Independent Audio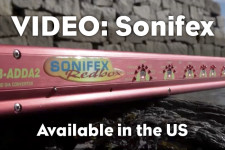 Sonifex RB ADDA2 available from Independent Audio: The RB-ADDA2 A/D and D/A converter is a 1U rack-mount which produces an AES/EBU, S/PDIF or TOSlink optical level digital audio output from a balanced XLR or unbalanced phono stereo audio input. It also produces a stereo balanced XLR or unbalanced phono output from an incoming AES/EBU, S/PDIF or TOSlink optical digital input signal.
Sonifex manufactures broadcast audio equipment for the radio, TV, security and telecommunications industries. This is a family business, started as a partnership in 1969 by Paul and Dorothy Brooke, which has had a steady turnover of trading, and has established a recognised position in the radio broadcasting industry.
The constant need to innovate is now an integral part of the Sonifex culture, combining healthy and outward-looking ideas with sound and efficient design practices. During the next decade Sonifex will consolidate its position in the broadcasting and security industries by expanding its research and development efforts in order to offer new designs of equipment reflecting the quality and reliability that is expected by its customers.