Video: CONEQ APEQ 2pro Now Available In The US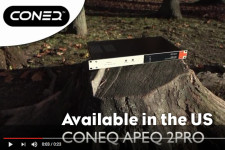 The Coneq APEQ 2pro Hardware Monitor Analyzer is a unique technology for measurement and equalization of Acoustic Power Frequency Response (APFR) of loudspeakers. After applying the CONEQ correction filter to the audio signal, the reproduced sound is extremely close to that of the source material, as if the original sound source were relocated at the location of the loudspeaker.
Now, for the first time ever, CONEQ clearly demonstrates the advantage of acoustic power frequency response measurement for the correction. The assessment of electro-acoustic transducer is so accurate that it allows direct synthesising of the respective correction filter.