Sonifex RB-DMA2 Solid-State Microphone Pre-Amp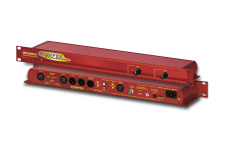 The RB-DMA2 consists of two independent low-noise microphone pre-amplifiers for converting microphone level signals to a digital AES/EBU or S/PDIF output. Individual analogue balanced line level outputs are also produced for use, for example, to feed talkback systems. The unit can either be used as two independent microphone amplifiers, or one mic input can be copied to both channels of the digital output.
For more information, please visit this product's webpage.