Audessence ALPS-1 Audio Leveler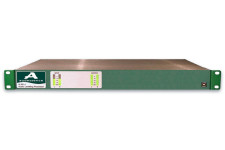 A tamper-proof solution designed to solve audio level problems – completely! Digital, cost-effective and flexible, the ALPS-1 provides control of perceived loudness, dynamic range and peak level. The design is suitable for all situations where some combination of these three must be powerfully yet unobtrusively controlled. A truly versatile design, ideal for codec protection, satellite feeds, transmitter protection and remote broadcast site operations.
For more information, please visit this product's webpage.