CEDAR HDA Headphone Amplifier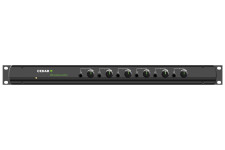 The CEDAR HDA headphone amplifier is a 24-bit, 96kHz rackmount unit that receives an AES/EBU or SPDIF input and converts it to six individually buffered 1/4″ (6.3mm) stereo headphone outputs, each with its own volume control. Designed to complement CEDAR's award-winning DNS series and an integral element in the CEDAR CSS-1500 and CSS-3000 Surveillance Systems, it is also perfect for use with CEDAR Cambridge and our Duo rackmounts, connecting directly to their AES/EBU (XLR) or SPDIF (phono) outputs to provide the highest quality audio directly to the headphones. It handles all standard sampling frequencies up to and including 96kHz, will decode 50/15µs emphasis, and has a dynamic range in excess of 100dB. It delivers up to 150mW per headphone output with a maximum output level of +12dBu. The HDA is usable in almost all digital environments and, at its attractive price, offers an excellent price/performance ratio.
For more information, please visit this product's webpage.