DACS Clarity Headlite 3 Headphone Amplifier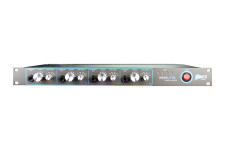 The DACS Clarity Headlite 3 is a four channel headphone amplifier with four inputs and six position monitor select for each amplifier that provides high level, crystal clear output into any headphones.
Headphones are an increasingly important tool for audio production. Ensuring the very best performance from headphones requires they be driven by a dedicated headphone amplifier. There are three main features to bear in mind:
Clarity and Sound Quality: Whatever the headphone task the quality of the final result begins with whatever you can hear in your ears. Accuracy is essential and any shortcomings will inevitably affect the result.
Power: Amplifier power is not just about level (sound pressure level) it is about clean level (sonically pure level). A good headphone amp should be `cruising' for the whole of its useable range.
Flexibility: You will need to drive more than one set of headphones with more than one mix. A good headphone amplifier will provide multiple outputs – with individual amplifiers – and a choice of inputs.
The DACS Clarity Headlite 2 scores top marks in all of the above.
For more information, please visit this product's webpage.