Sonifex RB-DHD6 Headphone Amplifier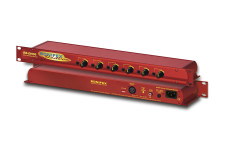 The RB-DHD6 digital 6 way headphone distribution amplifier is a 1U rack-mount which receives a digital input signal, as either AES/EBU or S/PDIF and converts it to 6 individually buffered, jack-plug, headphone outputs, each with their own volume control. Useful for connection to digital mixing desks, digital routers and matrices, the RB-DHD6 connects directly to an AES/EBU or S/PDIF output to provide the highest quality audio directly to the headphones.
For more information, please visit this product's webpage.