Sonifex RB-DS2 Delay/Synchronizer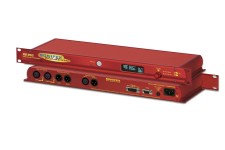 The RB-DS2 is a stereo audio delay synchroniser used for resynchronising audio to video following delay processes such as standards conversion, transmission delay, logo insertion, video aspect ratio conversion and network delays. It can be used for fixed installations to correct a permanent audio delay, or on an intermittent basis to provide occasional correction, for example for live links. Accepting digital audio signals up to 96kHz, 24 bit, the sonic quality of the RB-DS2 is superb and silent switching is used to provide the smoothest, cleanest audio delay available.
For more information, please visit this product's webpage.