Thermionic Culture Swift EQ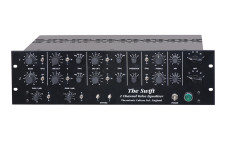 Thermionic Culture has combined the best classic e.q. ideas from the USA and the UK plus its own special features developing The Swift – an all valve 2 Channel Stereo Equalizer (named after Britain's fastest flying bird) which is quick and easy to use with a very laid out front panel. Frequencies have been carefully chosen working in conjunction with noted international producers and engineers.
Features include:
– Shelving bass and treble lift/cut controls at 2 frequencies each
– Mid cut and lift at 4 frequencies each with three "Q" combinations
– TC presence and air controls
– A switchable high pass filter with a special last position which, used with bass lift, can be a very
interesting combination
– Adjustable gain in .75 dB steps
– Custom-made in England using the same chassis as the classic Phoenix and the same valves (tubes) as the Little Red Bustard
For more information, please visit this product's webpage.