Audio & Design SyncroGenius Master Clock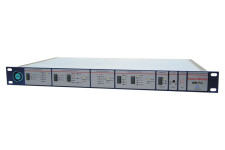 Master Clock Generator especially designed to cater for all video and digital audio synchronisation requirements within the post-production, studio & broadcasting industry.
-Selectable input reference with auto detection of video formats.
-All HD frame rates selectable in progressive scan & interlaced 1080 or 720.
-All SD frame rates selectable and available independently of HD outputs.
-HD & SD outputs can be genlocked to any input reference or set as master house sync.
-Simultaneous AES & Word Clock outputs genlocked and phase coherent to input reference.
-Pull up/down sample rate adjustable to suit all film, video and audio applications.
-Ultra low jitter performance & ultra high frequency stability using true DDS direct digital synthesis.
-Memory settings for up to 3 individual recallable input/output configurations.
-GPI 9way D connector giving front panel memory setting remote control and PSU & Genlock status.
-Tamper proof front panel "lockout" switch.
-Broadcast Pack Option – Adds Ovened crystal for AES-3 Grade 1(better than 0.7ppm over 12months) output reference and dual mains inlets and dual power supplies.
-Master Clock Generator for AES, Word Clock & HD/SD Video Black and Burst.
For more information, please visit this product's webpage.