DACS Test Lab Multifunction Test Unit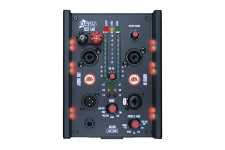 The DACS Test Lab is the perfect portable trouble-shooting solution for all pro audio engineers. It is an easy-to-carry device that addresses all the problems that could be encountered, and is a must-have tool in live sound, installation, and studios. Relieve pressure from those high-tension moments: test cables; test speakers; test power; test connections; shine a light on the problem with the built in flashlight; test signal paths; test and compare input and output levels; plug in connectors to make on-the-fly soldering easy (even in the dark!) using all major types of connectors from XLR, TRS, RCA phono, Speakon, Terminals and IEC Mains.
Whether you are constantly on the move or tied to a workbench, the DACS Test Lab can operate on a pair of 9V batteries (in very quick and easy to remove compartments), or IEC mains. One battery powers the circuitry while the other powers the LED lights. To conserve battery life the Test Lab goes into sleep mode after about ten minutes of inactivity.  It can be awakened by power cycling the unit, or moving the mode/function switch to another position.
A five mode, on-board frequency oscillator (capable of driving 4 Ohm speakers at audible volumes even on active sites) provides critical options for testing out a sound system. Choose between 70Hz, 1KHz, 4.5KHz for the system crossover bands, cycling round these three frequencies and generating Pink Noise.
For more information, please visit this product's webpage.